Eliza's Lopunny
Iraiza's Mimiroppu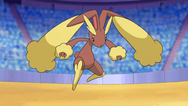 General
Trainer:
Eliza
Gender:
Female
Current location:
With Aria
Details
Evolved:
Unknown amount of episodes as Buneary.
This Lopunny is a normal-type Pokémon owned by Eliza.
Biography
Edit
Lopunny is Eliza's main Pokémon. She was first seen in the first episode of the series cooking some pancakes with her trainer. Lopunny, as a Buneary, was a renowned Pokémon Stylist with Eliza, helping her create many outfits from other trainers and their pokemon.
Known moves
Edit
References
Edit
Eliza's Pokémon
On hand

•

•

•

•

•

•
Traded